Board of Directors
The SSRC is governed by a board of directors made up of social scientists and practitioners from a broad range of disciplines and institutions. The board elects the SSRC president and regularly reviews the Council's intellectual program. An executive committee of the board oversees financial and operational aspects.
Founder and President, Data & Society
Executive Committee Member
danah boyd is the founder and president of Data & Society, a research institute focused on understanding the role of data-driven technologies in society. She is also a principal researcher at Microsoft Research and a visiting professor at New York University. Her research is focused on addressing social and cultural inequities by understanding the relationship between technology and society. Her most recent books—It's Complicated: The Social Lives of Networked Teens and Participatory Culture in a Networked Age—examine the intersection of everyday practices and social media. She is a 2011 Young Global Leader of the World Economic Forum, a member of the Council on Foreign Relations, a director of Crisis Text Line, and a trustee of the National Museum of the American Indian. She received a bachelor's degree in computer science from Brown University, a master's degree from the MIT Media Lab, and a PhD in information from the University of California, Berkeley. Her Twitter handle is @zephoria, and her website is danah.org.
Professor of City and Regional Planning, College of Environmental Design, University of California, Berkeley
Chair • Executive Committee Member
Teresa P. R. Caldeira is professor in the Department of City and Regional Planning at UC Berkeley. She is also professor of geography and a member of the Steering Committee of the UC Berkeley–Mellon Global Urban Humanities Initiative. Her research focuses on the predicaments of urbanization, such as spatial segregation, social discrimination, and the uses of public space in cities of the global south. She has analyzed the processes that generate these cities, such as peripheral urbanization and autoconstruction, highlighting their inventiveness, political cartographies, and modes of collective life. An anthropologist by training, she has been especially interested in reshaping ethnographic methods for the study of cities and political action, a practice exemplified in her award-winning book City of Walls: Crime, Segregation, and Citizenship in São Paulo (University of California Press, 2001). One of her current research projects investigates the emergence of new formations of collective life in four cities of the global south (São Paulo, Delhi, Johannesburg, and Jakarta). These new arrangements are considerably transforming the everyday, urban spaces, and politics of these cities, reflected in new forms of spatial composition, household arrangements, livelihood, and everyday circulation. She is the recipient of a UC Berkeley Faculty Mentor Award and of a UC President's Faculty Research Fellowship in the Humanities. In 2012 she was named a Guggenheim Fellow. Caldeira was educated at the University of São Paulo (BA in social sciences and MA in political science) and at the University of California, Berkeley (PhD in anthropology). She worked as a professor and researcher in the Brazilian university system between 1980 and 1996. She was a researcher at the Brazilian Center for Analysis and Planning (CEBRAP), one of Brazil's most important research centers in the social sciences, for fifteen years. She was also a professor at the University of Campinas (UNICAMP), São Paulo, before joining the University of California, Irvine. She became a member of the UC Berkeley faculty in 2007. Her work has been published in several languages.
Isabelle de Lamberterie
Director of Research Emerita, Centre National de la Recherche Scientifique
Isabelle de Lamberterie has been a researcher on comparative law at the Centre National de la Recherche Scientifique in Paris since 1969 and is now director of research emerita. She has coauthored Principes du droit européen du contrat, on contract law (2004); Dictionnaire comparé du droit d'auteur et du copyright, on intellectual property (2003); and Informatique, libertés et recherche médicale, on the protection of privacy (2001). During the 1970s and 1980s, her work addressed the regulation of new technologies: informatics in Les techniques contractuelles suscitées par l'informatique (1977), and the protection of software in La protection du logiciel: Enjeux juridiques et économiques, with Gilles Bertin (1985). More recently, her focus has been partly on digitization and the Internet, nanotechnology, and the medical sector, as well as the regulation of research, and her work has generally been conducted in partnership with researchers in other disciplines. She has taught at the University of Montpellier, University of Paris XIII, and University of Poitiers and directed about twenty doctoral theses. She has held various positions in state institutions, including member of the ethics committee of the Centre National de la Recherche Scientifique (1998–2007) and member of one of the advisory committees for the minister of research, Conseil Supérieur de la Recherche et de la Technologie (2006–2014). She currently chairs the scientific advisory committee for the program on digitization and concerted development in legal studies at the Bibliothèque Nationale de France and is a member—as emeritus—of the Institut de Sciences Sociales du politique (ISP), Université Paris-Saclay/Université de Nanterre.
Vishakha N. Desai
President and CEO Emerita of the Asia Society
Audit Committee Member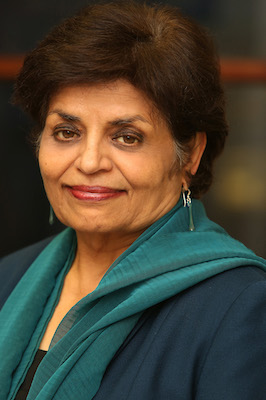 Vishakha N. Desai is president and CEO emerita of the Asia Society, a global organization dedicated to strengthening partnerships among peoples of Asia and the US, which she led from 2004 through 2012. As president, she set the direction for the Society's diverse sets of programs, ranging from policy initiatives and national educational programs to ground-breaking exhibitions and performing arts programs, throughout its network of eleven offices in the US and Asia. She currently serves as the sole female independent director on the Corporate Board of Mahindra and Mahindra, one of the five largest global companies in India. She is also a trustee of the Doris Duke Charitable Foundation, chair of the Board of Trustees for AFS Intercultural Programs, and chair of the Advisory Board of the Smithsonian's Asian Pacific American Center. She has served on numerous boards of not-for-profit organizations nationally and internationally, including the National Board of Museums and Library Service, to which she was appointed by President Barack Obama. Since 2013, she has served as senior advisor for global affairs to the president; vice-chair, Committee on Global Thought; and senior research scholar at the School of International and Public Affairs at Columbia University. Desai holds a BA in political science from Bombay University and an MA and PhD in art history from the University of Michigan. A scholar of Asian art and culture, Desai is a frequent speaker at international forums on subjects focusing on cultural roots of Asia's economic and political transformation and challenges. She is editor and coauthor of several art books and has written numerous op-ed pieces and articles. Desai has taught at Columbia University, Boston University, and the University of Massachusetts, where she held a tenured appointment. The recipient of numerous international and national grants and fellowships, Desai has received four honorary degrees from American universities.
Leitner Family Professor of African Studies, Director of the Institute of African Studies, Columbia University
Executive Committee Member
Mamadou Diouf is Leitner Family Professor of African Studies and History at Columbia University, where he also leads the Institute of African Studies. Prior to teaching at Columbia, he taught at the University of Michigan, Ann Arbor, and before that at Cheikh Anta Diop University in his native Senegal. Educated primarily in France, Diouf is a renowned West African scholar who has guest lectured at many European and American universities. He holds a PhD from the University of Paris–Sorbonne. His research interests include urban, political, social, and intellectual history in colonial and postcolonial Africa. He is the author, coauthor, or editor of numerous books, including The Arts of Citizenship in African Cities: Infrastructures and Spaces of Belonging, edited with Rosalind Fredericks (Palgrave Macmillan, 2014); Tolerance, Democracy, and Sufis in Senegal (Columbia University Press, 2013); Les arts de la citoyenneté au Senegal: Espaces contestés et civilité urbaine, edited with Rosalind Fredericks (Karthala, 2013); Rhythms of the Afro-Atlantic World: Rituals and Remembrances, edited with I. Nwankwo (University of Michigan Press, 2010); New Perspectives on Islam in Senegal: Conversion, Migration, Wealth, Power, and Femininity, edited with Mara Leichtman (Palgrave Macmillan, 2009); La construction de l'État au Sénégal, with M. C. Diop and D. Cruise O'Brien (Karthala, 2002); Histoire du Sénégal: Le modèle islamo-wolof et ses périphéries (Maisonneuve et Larose, 2001); Les jeunes: Hantise de l'espace public dans les sociétés du Sud (l'Aube, 2001); and Les figures du politique en Afrique: Des pouvoirs hérités aux pouvoirs élus (Karthala, 1999). He is also a member of the editorial boards of several professional journals, including African Studies Review and la vie des idées.fr. His volume Une histoire du Sénégal: Héritages et contestations du modèle islamo-wolof is forthcoming with Karthala in 2019. He is editor of the Présence Africaine history book series.
Michael Gellert
General Partner and Cofounder, Windcrest Partners
Michael Gellert is a general partner of Windcrest Partners, which he cofounded in 1968, a director of Dalet Technologies, and a director emeritus of Seacor Holdings. Gellert is active in a number of nonprofit organizations, including the Carnegie Institution for Science, the New School, Human Rights Watch, the Caramoor Center for Music and the Arts, and the New York City Opera. He received a BA from Harvard University and an MBA from the Wharton School. Gellert also serves on the Visiting Committee to the Social Science Research Council.
Faculty of Economics, Cambridge University; Warburg Pincus
Secretary • Investment Committee Chair • Executive Committee Member
William H. Janeway is a special limited partner of Warburg Pincus. He joined Warburg Pincus in 1988 and was responsible for building the information technology investment practice. Previously, he was executive vice president and director at Eberstadt Fleming. Janeway is a director of Magnet Systems and O'Reilly Media. He is an affiliated member of the Faculty of Economics at Cambridge University. Janeway is a cofounder and member of the board of governors of the Institute for New Economic Thinking and a member of the Advisory Board of the Princeton Bendheim Center for Finance. He is a member of the management committee of the Cambridge-INET Institute, University of Cambridge, and a member of the Board of Managers of the Cambridge Endowment for Research in Finance (CERF). He is the author of Doing Capitalism in the Innovation Economy: Reconfiguring the Three-Player Game between Markets, Speculators, and the State, the substantially revised and extended new edition of the book initially published by Cambridge University Press in November 2012. Janeway received his doctorate in economics from Cambridge University, where he was a Marshall Scholar. He was valedictorian of the class of 1965 at Princeton University.
Stanley B. Resor Professor of Economics and History; Chair, Department of History; Yale University
Naomi R. Lamoreaux is Stanley B. Resor Professor of Economics and History at Yale University, chair of the Yale Department of History, and a research associate at the National Bureau of Economic Research. She received her BA in history from SUNY Binghamton in 1972 and her PhD in history from Johns Hopkins University in 1979. She taught at Brown University from 1979 to 1996 and the University of California, Los Angeles, from 1996 to 2010. She has written The Great Merger Movement in American Business, 1895–1904 and Insider Lending: Banks, Personal Connections, and Economic Development in Industrial New England, edited five other books, and published scores of articles on business, economic, and financial history. She also coedited the Journal of Economic History from 1992 to 1996. Lamoreaux is a fellow of the American Academy of Arts and Sciences and has served as president of the Business History Conference and the Economic History Association. Her current research interests include patenting and the market for technology in the United States, the rise and decline of the Cleveland innovative region, business organizational forms and contractual freedom in the United States and Europe, and the organizational roots of the constitutional right to privacy.
Founder and Executive Chairman, SAGE Publishing
Sara Miller McCune is the founder and executive chairman of SAGE Publishing, with subsidiary companies and sales offices in Los Angeles, Washington, DC, London, India, East Asia, Melbourne, and Latin America. McCune remains actively involved in the company's ongoing expansion and development. McCune is also cofounder and president of the McCune Foundation, based in Ventura, California, which supports productive change through building social capital in two counties on California's Central Coast. She is currently a member of the Board of Directors of the Center for Advanced Study in the Behavioral Sciences at Stanford University and a member of the Board of Directors and the Visiting Committee of the Social Science Research Council. McCune is a graduate of Queens College and the recipient of honorary doctorates from Queens College, University of Sussex, University of Bath, and California State University Channel Islands. She has also been recognized as an honorary alumna of the University of California, Santa Barbara; an honorary fellow at Cardiff University and Pembroke College, Oxford; and is a recipient of the prestigious London Book Fair Lifetime Achievement Award. As of 2019, McCune is a member of the American Philosophical Society (founded by Benjamin Franklin).
Director, Niehaus Center for Globalization and Governance; B. C. Forbes Professor of Politics and International Affairs; Princeton University
Executive Committee Chair • Investment Committee Member
Helen V. Milner is B. C. Forbes Professor of Politics and International Affairs at Princeton University and director of the Niehaus Center for Globalization and Governance at Princeton's Woodrow Wilson School. She has written extensively on issues related to international political economy; the connections between domestic politics and foreign policy, globalization, and regionalism; and the relationship between democracy and trade policy. In addition to numerous articles, her writings include the volumes Resisting Protectionism (1988); Interests, Institutions, and Information: Domestic Politics and International Relations (1997); The Political Economy of Regionalism (coedited with Edward Mansfield, 1997); Internationalization and Domestic Politics (coedited with Robert Keohane, 1996), and Votes, Vetoes, and the Political Economy of International Trade Agreements (coauthored with Edward Mansfield, 2012). Milner is currently working on issues related to globalization and development, such as the political economy of foreign aid; the "digital divide" and the global diffusion of the Internet; and the relationship between globalization and democracy. Another strand of her recent research deals with American foreign policy and the so-called grand strategy of liberal internationalism, and she is investigating the sources of public and elite preferences for engagement with the international economy in the areas of international trade, foreign aid, and immigration. Milner is president of the International Political Science Association.
Peter Nager
Principal, Skyview Ventures
Audit Committee Chair • Investment Committee Member
Peter Nager is a principal at the greentech venture capital investment firm Skyview Ventures. He is a former partner of the corporate advisory and investment banking firm James D. Wolfensohn Inc. Following the sale of Wolfensohn to Bankers Trust (BT), he became a partner and senior managing director at BT and assumed the same positions with Deutsche Bank upon its merger with BT. Earlier in his career, he was a lawyer at the firm Debevoise & Plimpton, specializing in mergers and acquisitions. Nager is president of the Beaver Dam Sanctuary in Westchester, NY. He also serves on the Advisory Board of the Black Box Institute in Toronto, Canada. Previously, Nager served as president of Symphony Space on the Upper West Side of Manhattan, as chairman of Central Park SummerStage, and on the Executive Committee of the Caramoor Center for Music and Arts in Westchester County, NY.
Alondra Nelson (Ex Officio)
President, Social Science Research Council
Alondra Nelson is the fourteenth president of the Social Science Research Council.
Widely known for her research at the intersection of science, politics, and social inequality, she holds the Harold F. Linder Chair in the School of Social Science at the Institute for Advanced Study, an independent research center in Princeton, New Jersey. She was previously professor of sociology and gender studies at Columbia University, where she served as the inaugural dean of social science for the Faculty of Arts and Sciences. As dean, she led the first strategic planning process for the social sciences at Columbia, working with faculty to set long-term research priorities. Nelson began her academic career on the faculty of Yale University, where she received the Poorvu Award for interdisciplinary teaching excellence.
Nelson's work offers a critical and innovative approach to the social sciences that is conducive to a fruitful dialogue with many disciplines. Her major research contributions are situated at the intersection of racial formation and social citizenship, on the one hand, and emerging scientific and technological phenomena, on the other. She connects these dimensions in award-winning and acclaimed books, including The Social Life of DNA: Race, Reparations, and Reconciliation after the Genome; Body and Soul: The Black Panther Party and the Fight against Medical Discrimination; Genetics and the Unsettled Past: The Collision of DNA, Race and History (with Keith Wailoo and Catherine Lee); and Technicolor: Race, Technology and Everyday Life (with Thuy Linh Tu). Her recent publications also include a symposium in the British Journal of Sociology on the history of slavery, genetic genealogy, and the #GU272, and articles with collaborators in the journals PLOS: Computational Biology, Genetics in Medicine, and the The Du Bois Review. She is currently completing a book on science and technology policy in the Obama administration.
Nelson's research has been supported by the Ford Foundation, the Andrew W. Mellon Foundation, and the National Science Foundation. She has been a visiting fellow of the Max Planck Institute for the History of Science, the BIOS Centre at the London School of Economics, the Bavarian-American Academy, the Bayreuth Academy of Advanced African Studies, and the W.E.B. Du Bois Institute for African and African American Research at Harvard University.
Nelson is chair of the American Sociological Association Section on Science, Knowledge, and Technology. She is an elected member of the Sociological Research Association and an elected fellow of the American Academy of Political and Social Science and the Hastings Center. She serves on the Board of Directors of the Data and Society Research Institute, the Teagle Foundation, and the Center for Research Libraries, as well as the board for African American programs at Monticello. Nelson also is a member of the Board of Directors of the Brotherhood/Sister Sol, a Harlem-based youth development organization.
Raised in Southern California, Nelson received her BA from the University of California, San Diego, where she was elected to Phi Beta Kappa. She earned her PhD from New York University in 2003.
Kenan Sahin Dean of the School of Humanities, Arts, and Social Sciences, and Professor of Political Science, Massachusetts Institute of Technology
Investment Committee Member
Melissa Nobles is Kenan Sahin Dean of the School of Humanities, Arts, and Social Sciences, and professor of political science at the Massachusetts Institute of Technology. Nobles's research and teaching have focused on the comparative study of racial and ethnic politics, and issues of retrospective justice. Her current research centers on constructing a database of racial killings in the American South, 1930–1954. Working closely as a faculty collaborator and advisory board member of Northeastern Law School's Civil Rights and Restorative Justice law clinic, Nobles has conducted extensive archival research, unearthing understudied and more often, unknown deaths and contributing to legal investigations. She is the author of two books, Shades of Citizenship: Race and the Census in Modern Politics (Stanford University Press, 2000), The Politics of Official Apologies (Cambridge University Press, 2008), and coeditor with Jun-Hyeok Kwak of Inherited Responsibility and Historical Reconciliation in East Asia (Routledge Press, 2013). Her scholarship has also appeared in the Annual Review of Political Science, Daedalus, American Journal of Public Health, and several edited books. Nobles is a graduate of Brown University where she majored in history. She received her MA and PhD in political science from Yale University. Nobles has held fellowships at Boston University's Institute for Race and Social Division and Harvard University's Radcliffe Center for Advanced Study. She has served on the editorial boards of Polity, American Political Science Review, and Perspectives on Politics journals. Nobles has also been involved in faculty governance at MIT and beyond, serving as the associate chair of the MIT Faculty from 2007–2009 and vice-president of the American Political Science Association, 2013–14.
Professor of Education and Sociology, Organizational Behavior, Management Science and Engineering, and Communication; Codirector, Center on Philanthropy and Civil Society; Stanford University
Executive Committee Member • Audit Committee Member
Woody Powell is professor of education and sociology, organizational behavior, management science and engineering, and communication at Stanford University. He has been a faculty codirector of the Stanford Center on Philanthropy and Civil Society since it was founded in 2006 and currently shares the Marc and Laura Andreessen Codirectorship with Paul Brest and Rob Reich. He is also Centennial Professor of Sociology at the London School of Economics and Lewis A. Coser Visiting Professor at the Hertie School of Governance in Berlin. Prior to moving to Stanford in 1999, Powell taught at Stony Brook University, Yale University, the Massachusetts Institute of Technology, and the University of Arizona. He has received honorary degrees from Uppsala University, Sweden; Copenhagen Business School, Denmark; and Aalto University, Finland, and is a foreign member of the Swedish Royal Academy of Science. He has served on the board of directors of the Social Science Research Council since 2000 and was an external faculty member of the Santa Fe Institute from 2001–2013. His interests focus on the processes through which ideas and practices are transferred across organizations and the role of networks in facilitating or hindering innovation.
Philip R. Allen Professor of Psychology, Yale University
Professor Richeson's research examines multiple psychological phenomena related to cultural diversity. Her work generally concerns the ways in which sociocultural group memberships such as race, gender, and socioeconomic status impact the way people think, feel, and behave, especially during interactions with members of different sociocultural groups. Her current research is largely focused on dynamics and consequences of increasing racial, ethnic, and other forms of cultural diversity, most notably the rising racial/ethnic diversity of the nation. She and her students are also interested in how people reason about different forms of inequality and the implications of such processes for detecting and confronting it. Further, Richeson and her students examine multiple consequences of managing the threats associated with being exposed to discrimination and intergroup inequality. Through her teaching and research, Richeson hopes to contribute to a better understanding of intergroup relations, including how best to foster culturally diverse environments that are cohesive. In 2006, she was named one of 25 MacArthur "Genius" Fellows for her work as a leader in "highlighting and analyzing major challenges facing all races in America and in the continuing role played by prejudice and stereotyping in our lives." She is an elected member of the National Academy of Sciences and the recipient of the John Simon Guggenheim Memorial Foundation Fellowship.
Edwin W. Rickert Professor of Economics, Columbia University
Investment Committee Member
José A. Scheinkman is the Edwin W. Rickert Professor of Economics at Columbia University, Theodore A. Wells '29 Professor of Economics emeritus at Princeton University, and a research associate at the National Bureau of Economic Research. Previously, Scheinkman was the Alvin H. Baum Distinguished Service Professor and chairman of the Department of Economics at the University of Chicago, Blaise Pascal Research Professor (France), visiting professor at Collège de France, vice president in the Financial Strategies Group of Goldman, Sachs & Co., and coeditor of the Journal of Political Economy. He has served as a consultant to several financial institutions and is a member of the board of directors of Cosan Limited, a NYSE-listed company engaged in the production and distribution of sugar, ethanol, energy, and logistic services in Brazil. His research has focused on building mathematical models that shed light on a variety of economic and social phenomena, such as economic fluctuations, the nature of oligopolistic competition, the growth of cities, informal economic activity, the spatial distribution of crime, and the dynamics of asset prices and asset-price bubbles. Scheinkman is a member of the National Academy of Sciences, fellow of the American Academy of Arts and Sciences, fellow of the Econometric Society, corresponding member of the Brazilian Academy of Sciences, and recipient of a John Simon Guggenheim Memorial Fellowship and of a doctorat honoris causa from the Université Paris-Dauphine.
Partner and Cohead, Risk & Public Policy, Oliver Wyman
Audit Committee Member
Til Schuermann is partner and cohead of Risk & Public Policy practice for the Americas at Oliver Wyman. He advises private and public sector clients on stress testing, enterprise-wide risk management, model risk management, climate risk and governance including board effectiveness. He previously served as senior vice president at the Federal Reserve Bank of New York, where he held numerous positions, including head of Financial Intermediation in Research and head of Credit Risk in Bank Supervision. Schuermann started his career at Bell Labs. He is a member of the Federal Reserve Bank of New York's Financial Advisory Roundtable, serves on the advisory boards of the NYU Courant Institute Mathematical Finance program and NYU Stern's Volatility Risk Institute, and is on the FRM exam committee for the Global Association of Risk Professionals. He is an associate editor of the Journal of Financial Services Research and the Journal of Risk, and is on the editorial board of the Journal of Risk Management in Financial Institutions. Schuermann has a PhD in economics from the University of Pennsylvania and a BA in economics from the University of California, Berkeley.
Joseph Schull
Managing Partner, Corten Capital
Joseph Schull is the founder, managing partner, and chairman of the Investment Committee of Corten Capital and a longstanding investor in the technology, media, and telecommunications (TMT) sector, across early stage, development capital, and leveraged buyout investments. Having joined Warburg Pincus (WP), one of the world's leading private equity firms, in 1998, Schull led the firm's TMT group in Europe as well as its investment activities in Emerging Europe. He has led growth and buyout investments in B2B software and technology-enabled services, information services, cable broadband services, and digital media. He also served as WP's head of Europe and was a member of the firm's global Executive Management Group. Schull holds a BA and MA from McGill University, where he studied politics, philosophy, and economics and was a Guy Drummond Scholar, and he received a DPhil from Oxford University, where he was a University Lecturer during 1990–1991. He is chair of the Investment Committee of venture philanthropy organization Impetus Trust, a Board member of the Social Science Research Council, and a member of the International Advisory Board of McGill University. He was born in Montreal, Canada, and lives in London, UK.