Claremont Colleges Join the
College and University Fund for the Social Sciences
The Claremont Colleges, a consortium of liberal arts colleges and graduate institutions in Southern California, have joined the College and University Fund for the Social Sciences, a group of higher education partners that work with the SSRC to enhance the infrastructure of social science research, to catalyze interdisciplinary and cross-institutional collaborations, and to support scholars and scholarship.

Mary McDonnell to Retire from SSRC June 30
The SSRC today announced that Mary McDonnell, senior vice president for strategic learning and special initiatives, will retire on June 30. Since 1986, McDonnell has made significant contributions to the organization as a member of its program staff and leadership, developing and administering a wide range of US and international programs and initiatives.

Social Data Initiative Update
Learn more about the Social Data Initiative's recently announced inaugural cohort of Social Media and Democracy Research Grants recipients and how they embody the essential values to which the program has been committed from the start: international, innovative, interdisciplinary teams researching timely issues at the juncture of technology and politics.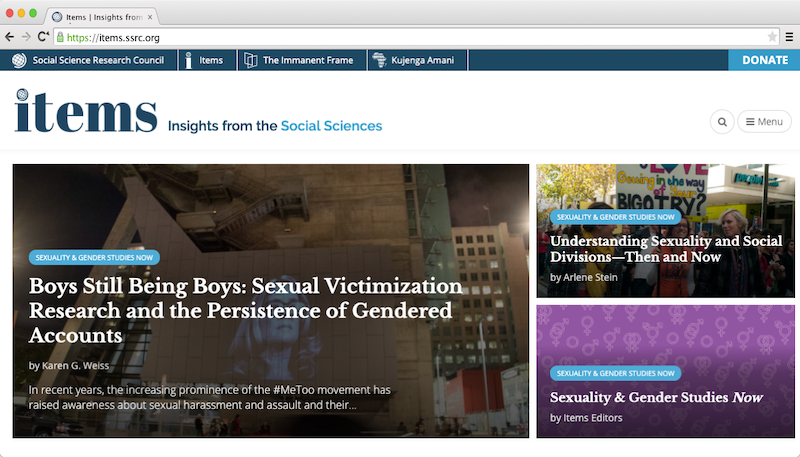 Updated, Expanded Items Launched
The SSRC has relaunched Items, its online forum for insights from across the social sciences. With origins dating back to 1947 (when a print version of Items was mailed quarterly to thousands), the expanded Items now features a section dedicated to contributions from SSRC fellows and grantees, as well as a redesigned path to an extensive collection of essays from leading scholars and researchers on the most urgent questions of the day.

Of Note
The SSRC recently partnered with the New Yorker Radio Hour on a special segment on the issue of reparations that was released in conjunction with an episode fully dedicated to this theme. The segment was cohosted by SSRC president Alondra Nelson and Joshua Rothman of the New Yorker.

The inaugural installment in the publishing partnership between the Anxieties of Democracy program and Cambridge University Press debuted at the end of May. Can America Govern Itself? was edited by Frances E. Lee and Nolan McCarty, who serve as cochairs of the Anxieties of Democracy program's Working Group on Institutions.

The International Dissertation Research Fellowship program recently announced its latest grantees, a group of 70 junior scholars that will conduct research on topics in the humanities and social sciences across the globe. These grantees, the latest of more than 1,400 over the last two decades, extend the program's legacy of wide-ranging research projects within and across academic disciplines and global regions.

/br>
Benita Roth
Dr. Benita Roth is professor of sociology, history, and women's studies and director of the Women, Gender and Sexuality Studies program at Binghamton University (NY). Dr. Roth is a fellow of the Anxieties of Democracy program's Identity, Community, and Participation project; this fellowship supports her research project, "Fighting the Opioid Crisis in Upstate New York: Marginalized Voices, Activism, and Community."