Report Finds Evidence of Coordinated Online Attacks against Muslim Congressional Candidates
#Islamophobia: Stoking Fear and Prejudice in the 2018 Midterms, written by scholars Lawrence Pintak, Jonathan Albright, Brian J. Bowe, and Shaheen Pasha, with the support of the Media & Democracy program, examines the campaign experiences of Rep. Ilhan Omar, Rep. Rashida Tlaib, and other Muslim candidates in the US midterms. The study demonstrates how a handful of Twitter accounts propagated a narrative of manufactured outrage that was disproportionately Islamophobic, xenophobic, racist, and misogynistic. Since its publication, the report has been featured in the New York Times, the Washington Post, Wired, and more.


New Religion Program Initiatives Support Early-Career Scholars
The Program on Religion and the Public Sphere will offer two new opportunities for emerging scholars examining the connections between religion and critical public issues over the next year. The program received a four-year, $700,000 grant from the Fetzer Institute to provide competitive, peer-reviewed fellowships to early-career scholars exploring religion, spirituality, and democratic renewal. And, with support from the Henry Luce Foundation, the program is now accepting proposals for the Summer Institute for Early-Career Scholars, a week-long institute for doctoral students and early postdocs exploring how religion and spirituality intersect with social justice movements and environmental crises.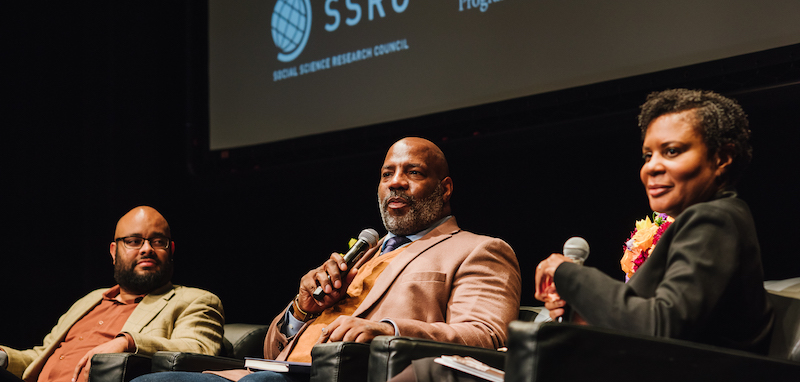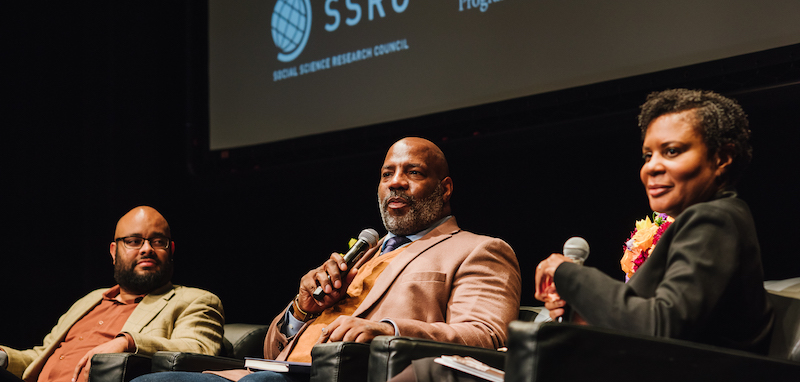 An American Dilemma 75th Anniversary Conference
and Digital Archive
Nearly 200 scholars, leaders, and community members gathered at the Schomburg Center for Research in Black Culture for a day-long conference marking the 75th anniversary of Gunnar Mydral's An American Dilemma: The Negro Problem and Modern Democracy and launch of a digital platform expanding access to the Carnegie-Myrdal research archive. The day's speakers offered rich reflection, critique, and discussion of the publication itself as well as the sociopolitical context that motivated the project's commissioning. To close the program, SSRC president Alondra Nelson engaged professors Jelani Cobb and Phillip Atiba Goff in a stirring conversation that crystallized the importance of historical data in working to remedy both foundational and symptomatic instances of injustice.
Experts Discuss Disinformation in US Politics at MediaWell Launch
On October 22, the Social Science Research Council launched MediaWell, an innovative online platform to consolidate research on disinformation and related issues for scholars, journalists, policymakers, and citizens. To mark its official release, the Council hosted "2020 Vision: The Present and Future of Disinformation in American Politics," headlined by a discussion among researchers and policy experts. Moderated by award-winning journalist Julia Angwin, the panel included Karen Kornbluh, director of the German Marshall Fund's Digital Innovation and Democracy Initiative; Dartmouth professor Brendan Nyhan; and Amy Mitchell, the director of journalism research at Pew Research Center.


Social Data Initiative Update
Does a social media user's age affect their likelihood of sharing hyperpartisan news online? Pablo Ortellado and his team at the University of São Paulo are investigating the age demographics of social media users who shared mainstream and hyperpartisan news sources in Brazil in 2017 and 2018. Read more about the project in the latest installment of Six Questions, our interview series with recipients of Social Media and Democracy Research Grants.


Call for Nominations for the 2020 Hirschman Prize
The Social Science Research Council is now accepting nominations for the biennial Albert O. Hirschman Prize. The prize is the Council's highest honor, recognizing excellence in research, theory, and public communication, in the tradition of German-born American economist Albert Hirschman. Previous recipients include Sheila Jasanoff, Amartya Sen, and 2019 Nobel laureates Abhijit Banerjee and Esther Duflo of the Abdul Latif Jameel Poverty Action Lab at MIT.


Making a Qualified Charitable Distribution
Are you over 70.5 years of age? If so, did you know you can use your Individual Retirement Account to make a qualified charitable distribution? Using your IRA for a charitable distribution allows you to make a gift without counting it as income or incurring penalties. In fact, your gift counts against your required minimum distribution. Giving through your IRA is one of many ways you can support the SSRC this year. Contact development officer Lisa Marshall today for more information.